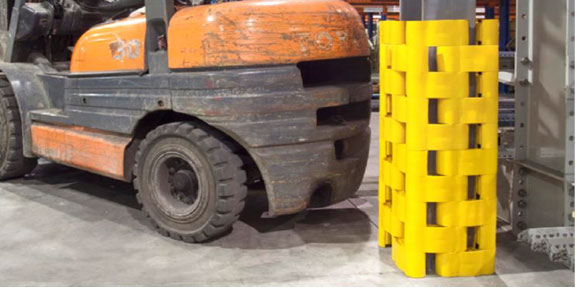 It is designed to 'TAKE THAT'
Introducing an addition to Elbowroom's Safety and Protection Solutions range. While Elbowroom's safety and rack protection products have historically saved $1,000s for many of our customers, some customers have suffered losses from forklift and other vehicle collision damage to building columns.  Repairing damage to structural building columns can be a very expensive exercise.  And it is a surprisingly common event. We are often asked if we can help with damage preventative measures and have trialled many solutions to reduce building column damage.  There is not one answer to all situations.  But there is one stand-out for most.  Introducing the Protect-It™ Maxi.
It truly is designed to 'TAKE THAT' – and it does!
Expandable, fits an infinite combination of sizes, shapes.
Square, Round, Rectangular, "H" & "I" Posts
Fully Tested – FEA and "real world"
Provides even impact absorption all directions.
Compact – minimal intrusion into warehouse space
Impact resistant in cold stores to -40 degrees
Simple installation – instructions in box
Low repair cost – replace only damaged components
Made from ultra-high impact absorbing polymers
Impact Tested: No column damage to 8″ (200UC_59) column after 2.7t forklift impact at 6km per hour
Supplied as KIT (1x Box) 8.5kg. Box size 520mm H x 300mm W x 220mm D Each KIT (box) contains 20 segments and 8 connection pins.