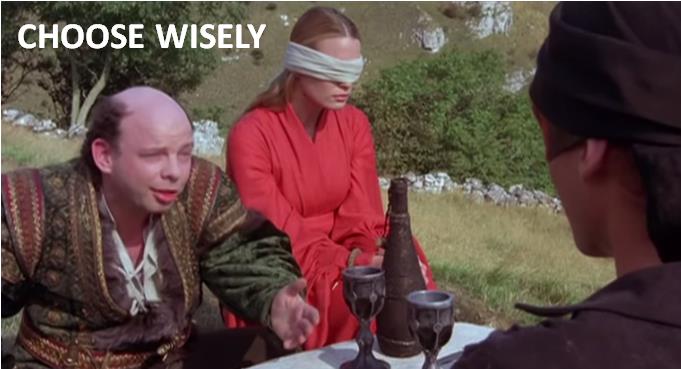 Poison scene from Princess Bride
There have always been many considerations made by Elbowroom before committing ourselves and our customers to our chosen storage solutions – our solutions of choice.  Far too many to mention them all here, but I do want to mention a couple which should be important to all of us – you included.
RISK
Who is at risk if a product which you purchase fails?
You are!  Let's at least start with you.  If you make a decision to purchase a product and it fails, you are at risk.  Obviously the nature of the product and the outcomes due to its failure, will dictate the level of your risk.  Your risk also depends on the due diligence you employed when you chose to purchase the doomed product.  The products sold in our industry include many structural components with high levels of design considerations where, if failure occurred, there could be devastating or even catastrophic outcomes.  Almost certainly there would be costly financial outcomes.
Your supplier should also be at risk.  If your supplier is genuinely in support of you and your needs, they will not put you at risk.  However, if they provide you with a product that is doomed to fail because they have not performed their own due diligence and risk assessments, you may be able to hold them responsible – to perhaps mitigate some of the blame away from you.  Can you see them standing up for you if someone is injured through the failed product?   Or are they more likely to blame your handling and operation procedures for the failure.
We at Elbowroom have the opportunity like anyone else to import the cheaper storage solution from overseas and then compete on a purely cost basis.  The main issue for us, well before price is considered, is whether we are at risk of receiving a product inferior to Australia's own and adopted codes and standards.  We do import some proven and reliable products.  However, we are well aware that if we import a product and sell it to you, we are deemed to be the manufacturer of that product and are therefore responsible for its performance in the eyes of our law.  So we don't and won't rely on what our offshore manufacturer's claim in regard to their conformance to our codes – instead we confirm and certify all design, engineering and load testing as passed through our trusted Australian engineers.  With our products of choice, our risk is covered and therefore your risk is covered.
"…our risk is covered and therefore your risk is covered"
DESIGNED TO A RECOGNISABLE CODE

There are many products sold in Australia today which are not manufactured to known and recognised codes.  Why? Because there are sellers and buyers alike who are prepared to put themselves and those around them at risk, to pay less, make more profit and to avoid the ethical challenges in facing true competition.  That may seem a harsh statement.  Yet simply, it's a statement of truth.
There are fewer brands and fewer products in the warehouse storage products industry than you may think which can genuinely offer Australian recognised design code conformance.  Our research proves that even when some say they do – they don't.   There is at least one industry leading supplier who states in relation to one of their widely used warehouse storage products "We aspire to meet the standards.."
What would your answer be if you were asked, and had to consider "Do you want your load-bearing, people-interactive warehouse rack structure to meet our country's recognised codes?"
I have made the following statement in previous articles in relation to one of our brands – our product and brand of choice.  This is also a brand where all of its products are covered by a recognised code…
"ColbyRack is the Biggest, Strongest and Safest, Australian   "manufactured" pallet racking product available.  That statement cannot honestly be made in relation to any other rack brand sold in Australia today."
When you buy and use genuine recognised code-conforming products, you are diminishing your risk, the risk of those around you and you are saving in many different ways – now and into the future.
For professional advice on choosing the right storage solutions, speak to the team at Elbowroom today.
Choose wisely – we do
Mark Althaus – Director
Elbowroom (Aust) Pty Ltd
Colby Storage Solutions, Murarrie